... and orders a Ketel One martini, no vermouth. A pretty nice guy, we had a nice (but quick) conversation while I prepared his drink. I told him I enjoyed his recent work in Law & Order: CI and SVU. He paid, sipped his drink, wished me Happy Memorial Day, then returned to the upper deck to rejoin his party. He was visiting friends in the area.
Probably best known as Sid Worley, the suicidal officer-in-training from
An Officer and a Gentleman
, David has 32 feature film credits starting with
The Rose
in 1979 and his most recent work, playing the Vice President of The United States in the unfortunate
In Her Line Of Fire
. In 1988 David, born in Knoxville, TN in 1954, played his childhood idol Elvis Presley in
Heartbreak Hotel
.
TRIVIA
: David named his daughter "Presley".
You probably recognize David's face from his television appearances. As I mentioned, the episode of Law & Order: Criminal Intent in which he plays a corrupt cop is one of my favorites. He also had a guest role on Law & Order: Special Victims Unit as a former partner of Eliot Stabler. Fans of CSI: Miami will recognize him as Agent Caldwell from a recent episode.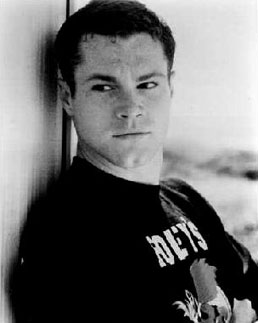 David's distinctive jaw and All-American good looks are a natural fit for roles as cop, soldier, sailor, detective, etc. He is known for portraying "flawed anti-heroes", such as Sid Worley, the corrupt cop Mark Virgini (Criminal Intent), and even Elvis.
In case you need a refresher, here are a few more notable items in his body of work:
The Lords Of Discipline (1979)
Firestarter (1984)
The Indian In The Cupboard (1995)
Men Of Honor (2000)
Behind Enemy Lines (2001)