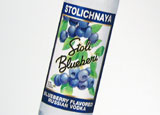 So we got a bottle of Stolichnaya® Blueberry vodka in the bar recently. This is something I tried out last night for a sexy customer. She liked it, so I figured I would put it out there for you to try.
Bonus Tiki points for anyone who gets the name reference!

Berry Switzer
1 1/2 oz Stoli® Blueberi
splash of cranberry
club soda to balance
In a double old-fashioned glass, combine all ingredients over ice. Stir. Enjoy!
Visit my recipes page at
tikitender.com/recipes.html
for more recipes!