Fare thee well Mr Newman. You were one of the good guys.--Tiki
Paul Newman dies at 83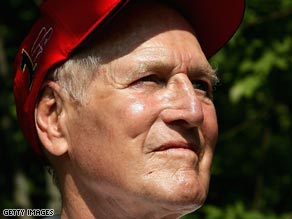 (CNN)
-- Paul Newman, the legendary actor whose steely blue eyes, good-humored charm and advocacy of worthy causes made him one of the most renowned figures in American arts, has died of cancer at his home in Westport, Connecticut. He was 83.
He died Friday, according to spokeswoman Marni Tomljanovic.
Newman attained stardom in the 1950s and never lost the movie-star aura, appearing in such classic films as "Cat on a Hot Tin Roof," "Exodus," "The Hustler," "Cool Hand Luke," "Butch Cassidy and the Sundance Kid," "The Sting" and "The Verdict."
He finally won an Oscar in 1986 -- on his eighth try -- for "The Color of Money," a sequel to "The Hustler." He later received two more Oscar nominations. Among his other awards was the Motion Picture Academy's Jean Hersholt Humanitarian Award.
Newman was a Method-trained actor who blazed his own career trail and didn't shy away from risky roles -- inside and outside films.
A portrayal as a race-car driver in 1969's "Winning" led to his actual competition in races; at 70, he participated in the 24 Hours of Daytona and he was still racing at age 80.
He stumped for liberal causes, including Eugene McCarthy's 1968 presidential candidacy, and earned a spot on Richard Nixon's enemies list -- "the highest single honor I've ever received," he said.
In 1982, Newman and his friend A.E. Hotchner founded Newman's Own, a food company that produced food ranging from pasta sauces to salad dressing to chocolate chip cookies.
"The embarrassing thing is that the salad dressing is outgrossing my films," Newman once wryly noted.
To date, the company -- which donates all profits to charities such as Newman's Hole in the Wall Gang camp -- has given away more than $200 million. Newman established the camp to benefit gravely ill children...
http://www.cnn.com/2008/SHOWBIZ/Movies/09/27/paul.newman.dead/